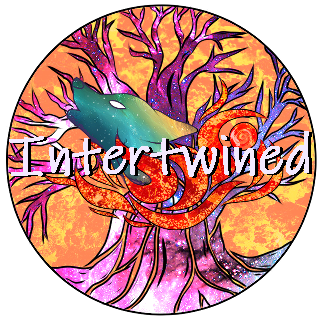 Intertwined
[Update]Intertwined 0.05ALPHA
---
Good Afternoon all! It is once again time for our update! This time we are bringing you part 1 of Day 5. Day 5 is the last day in Chapter 1 and will be quite the ride as a good amount of questions are finally answered and we bring it all full circle. We also have been experimenting with some things like animation. I have no idea if we will keep doing the animation or not, but feedback is always appreciated.
The patch notes for this version is below :
V0.05 Update Notes
General Patches
- Fixed a bug where an error screen popped up during Day 1.
- Fixed a bug where a misnamed sprite caused Iliff's sprite to appear in the top left of the screen.
Testing
- Testing some new code as well as other variations of file extensions to better optimize the game to not be so large. (This is ongoing)
- Testing several new code implications to better smooth transitions between sprites.(Nothing new yet, but this is on the list)
- The official title screen for the game will be released in Day 6. We are still testing the new ATL for this one as it will be dynamic and not stagnant.
New Content
Day 5 Part 1
- Day 5 Part 1 has been added to the game. This day is a linear day with no branching paths as it sets the stage for the end of Chapter 1.
- Day 5 Part 1 consists of 14,000 words with two new CG art pieces. One of these art pieces is slightly animated to test how well we can push animations going forward.
- Yukine neutral sprite has been animated only in Day 5 Part 1 to test how animations go along with our story and game ideas. There may be a few bugs with this, please let us know if you catch any as this is all new territory for us.
- A new character will make its appearance in Day 5 Part 1.
- New locations and some other changes have been added.
- Testing a new icon for the game. Icon will appear in the taskbar and on the top left of the window. This is also a test as it does look very fuzzy.
What is to Come?
- Day 5 Part 2 will end Chapter 1 and will be released next month.
- There will be a month hiatus between Ch 1 and Ch 2 as we go back and fix a lot of errors that we backburnered while finishing up the Chapter.
- Sprites for both Professor Soren and Winter's Fury are in the works.
- A new sprite update for Kurt will happen as he did not get a new sprite with the Art Update in Patch 0.04
- A new title screen will be released in Chapter 2
- ARMA's UI update is in the works. Release date TBD.
- Brand new Achievement System will be released with ARMA's Update.(This will break save files. Sorry :c)
As always if you want to help and support us you can give our game a rating here on itch so that more people can see the work that we do and also if you want to get some extra stuff and see behind the scenes work, please consider becoming a patron of ours.
https://www.patreon.com/IntertwinedVN
Thanks again and we will be in touch with more updates. We have been swamped with outside work as well as the VN so we are hoping that everyone is still enjoying the work we do!
See you soon!
Yukine Alterma
Developer of Intertwined
Files
Intertwined-0.05-PC
312 MB
Apr 09, 2021
Intertwined-0.05-MAC
295 MB
Apr 09, 2021